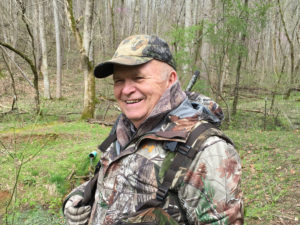 POMA heritage member and founding board member, Jim Casada is among the inaugural class of inductees to the Fly Fishing Museum of the Southern Appalachians Hall of Fame Program. Casada is being inducted under the communications category in recognition as an author and presenter on outdoor-related subjects.
Cherokee, North Carolina – The Fly Fishing Museum of the Southern Appalachians Hall of Fame Program announces the first inductees to be recognized at what will become an annual museum event. The inaugural Museum Hall of Fame inductions will be conducted on September 24, 2016 at the Yellowhill Community Center located at 1416 Acquoni Road, Cherokee, NC 28719, near the museum.
Museum Hall of Fame nomination forms may be obtained electronically from Alen Baker alenandscottie@aol.com or picked up as hardcopy at the museum. The museum seeks to recognize those who have made outstanding and unique contributions to the art, science and sport of fly fishing. We encourage you to nominate those who meet the nomination criteria and are deserving of such recognition.
Our 2016 Museum Hall of Fame Inductees are Walter Cary, Wanda Taylor, Jim Casada and Phil Bracewell.
Walter Cary – Inducted in the Crafts category as a professional popper maker who is well known for decades of creativity and wisdom in designing poppers that panfish and bass can't resist. He is also widely recognized for his dedication to providing fly-tying demonstrations and fly-fishing presentations working with novice anglers, kids and veterans.
Wanda Taylor – Inducted in the Recreation category for her many contributions to fly fishing in the Southeast as a professional guide, certified fly casting Instructor and highly involved fly volunteer with Casting Carolinas, Casting for Confidence and Casting for Recovery.
Jim Casada – Inducted in the Communications category as the author of numerous outdoor books and as a seminar speaker who has shared a lifetime of knowledge and experience with us all. In addition to fly fishing he has written about hunting, game and fish recipes, the history of sport and on academic subjects.
Phil Bracewell – Inducted posthumously in the Conservation category for his many years of dedication to the sport as a founding member of the original North Carolina Chapter of Trout Unlimited and as a volunteer conservation leader who served as a Trout Unlimited National Director for many years. He was the fund raising leader of the Northwestern Chapter of Trout Unlimited who set numerous national banquet records.
The inductions will be held in Cherokee among attending museum supporters as well as the family and friends of our inductees. Fly anglers from across the southeast will celebrate the 1st Annual Museum Hall of Fame Inductions.
With limited space, advanced reservations are essential and being taken to attend the first Museum Hall of Fame event –  email info@cherokeesmokies.com or call 828 788 0034 to reserve your place at the induction ceremony, dinner and all weekend admission to the Fly Fishing Museum of the Southern Appalachians for only $35 per person.