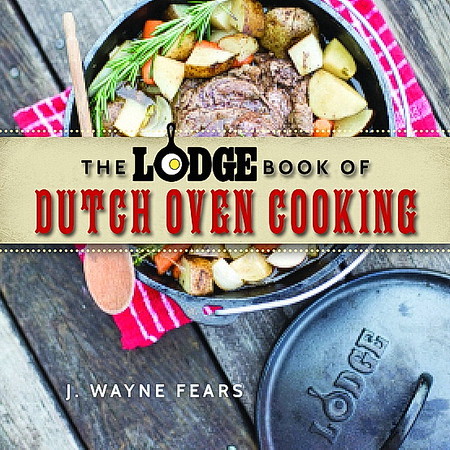 The Dutch oven is the one cooking pot that does it all: it bakes bread, steams vegetables, boils seafood, fries eggs, stews wild game, and broils meat. Dutch ovens produce great-tasting food with a small amount of effort and a lot of fun.
The book will officially be launched at the National Cornbread Festival in South Pittsburg, TN on Saturday April 29, 2017
The Lodge Book of Dutch Oven Cooking by J. Wayne Fears (Skyhorse Publishing, February 2017) is a comprehensive guide for not only preparing meals in your Dutch oven, but an in-depth look into cleaning and maintenance, how Dutch ovens are crafted, and what to look for when you're purchasing your first Dutch oven. You'll even learn about handy accessories!
Author J. Wayne Fears is a member of the International Dutch Oven Society and an author of acclaimed outdoor cookbooks, and he has served as a judge at many cook-offs, including the National Cornbread Cook-Off, so you can trust that his advice is fool-proof and his recipes are tested and delicious.
Simple and tasty recipes include:
• Sourdough biscuits
• Cornbread
• Stews and soups
• Chili
• Baked salmon • Hearty meatloaf • Peach cobbler • French coconut pie • Apple pie • And more!
Whether you're camping or throwing a party for friends, Dutch ovens will make cooking simple, unique, and enjoyable.
J. Wayne Fears is one of the most prolific writers of outdoor literature. He has had over 6200 magazine articles published and he has written 32 books including how-to, novel, and humor. He has been awarded numerous awards for journalism and conservation. He was voted into the Explorers Club and enshrined in the Legends of the Outdoors Hall of Fame.