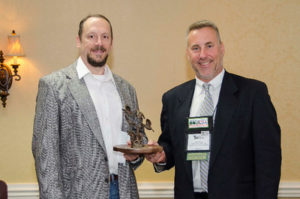 The key executives of two POMA Corporate Partners, Anthony Imperato with Henry Repeating Arms and Kurt Kalkomey with Kalkomey Enterprises, were recently honored by the International Hunter Education Association-USA (IHEA-USA) during its annual business conference. The conference was hosted by the South Carolina Dept. of Natural Resources and managed by Capt. Billy Downer and SCDNR staff.
Anthony Imperato, president and owner of Henry was awarded the IHEA-USA Industry Award for his many years of dedication and service to the administrators, state hunter education programs and instructors.  Under Imperato's leadership, Henry Repeating Arms continues to donate firearms to each state every year, donates to special state events, and provides discounts to instructors.
Kurt Kalkomey, president and co-founder of Kalkomey and Hunter-Ed.Com accepted IHEA-USA's Innovations in Technology Award for his many years of innovation with hunter education products, manuals, Internet sites, registration and certification systems used throughout the country.