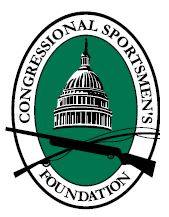 February 26, 2016 (Washington, DC) – Today, the U.S. House of Representatives voted 242 – 161 in favor of the Sportsmen's Heritage and Recreational Enhancement Act (H.R. 2406), known as the SHARE Act.
Introduced by Congressional Sportsmen's Caucus (CSC) Co-Chair Congressman Rob Wittman (R-VA), with original cosponsors CSC Co-Chair Congressman Tim Walz (D-MN) and Vice-Chairs Congressmen Jeff Duncan (R-SC) and Gene Green (D-TX), the SHARE Act currently has 37 bipartisan cosponsors.
"House passage of the SHARE Act is a win for hunters, anglers, and all sportsmen and women across the country," said Congressional Sportsmen's Foundation (CSF) President Jeff Crane. "The Congressional Sportsmen's Caucus leadership has been continuously working with CSF and our partners to ensure that the most important bills to the sportsmen's community are included in the package." Prior to the floor vote, CSC leadership sent a letter to their colleagues, asking for support of the bill.
"Hunters and anglers were among the first to recognize the extraordinary need for wildlife stewardship in the United States," Congressman Wittman said, "and that tradition of sportsman-led conservation continues to thrive today. The SHARE Act includes initiatives that not only protect federal lands but expand access for hunters, anglers, and outdoor recreationalists. As an outdoorsman myself, I think it's so important that we safeguard the habitats that we hold in public trust and that we protect the values and traditions held by sportsmen and women for generations to come."
"Hunting and fishing is an important part of our heritage but also a powerful economic engine. This bill is a step in the right direction," said Congressman Walz. "I look forward to working with my colleagues to improve on it and get it signed into law."
H.R. 2406 is also supported by more than 50 of the nation's leading conservation groups, representing millions of sportsmen and women across the country. Some of the notable provisions in H.R. 2406 include: the Recreational Fishing and Hunting Heritage Opportunities Act; the Hunting, Fishing, and Recreational Shooting Protection Act; the Target Practice and Marksmanship Training Support Act; the Farmer and Hunter Protection Act; the permanent creation of the Wildlife and Hunting Heritage Conservation Council Advisory Committee (WHHCC); and reauthorization of the Federal Land Transaction Facilitation Act, among others.
In addition, the following amendments were added to the SHARE Act during the floor vote:
* Adding the Administrator of U.S. Small Business Administration or a designated representative to the WHHCC
* Permitting more than one U.S. Fish and Wildlife Service Law Enforcement Officer to be placed in a U.S. diplomatic or consular post in an African country, to assist local wildlife rangers in protection of elephants;
* Requiring the GAO to conduct a study examining the effect of a ban of the trade of illegal importation of ivory;
* Prohibiting the USDA and NFS from issuing restrictions and regulations on hunting and recreational fishing in Mark Twain National Forest;
* Requiring the Chief of the U.S. Forest Service to publish a notice in the Federal Register, with a justification, for the closure of any public road on Forest System lands;
* Requiring the Forest Administrator to amend the travel plan for the Kisatchie National Forest in Louisiana to allow Utility Terrain Vehicle access on roads nominated by Secretary of Louisiana Wildlife and Fisheries, except when designation would pose a safety risk;
* Allowing a person who is not prohibited from possessing a firearm or ammunition to transport it for any lawful purpose from a place where firearms/ammunition are legally allowed to another place where firearms/ammunition are legally allowed;
* Adding The Good Samaritan Search and Recovery Act;
* Reinstating the Fish and Wildlife Service decision to delist the gray wolf in the Western Great Lakes and Wyoming, from the Endangered Species Act;
* Prohibiting the Fish and Wildlife Service from issuing a rule that preempts state management authority which is protected by law in Alaska;
Today's passage of the SHARE Act marks an important step closer to ensuring that America's hunting and angling traditions remain a top priority in the hall of government.
Since 1989, CSF has maintained a singleness of purpose that has guided the organization to become the most respected and trusted sportsmen's organization in the political arena. CSF's mission is to work with Congress, governors, and state legislatures to protect and advance hunting, angling, recreational shooting and trapping. The unique and collective force of the Congressional Sportsmen's Caucus (CSC), the Governors Sportsmen's Caucus (GSC) and the National Assembly of Sportsmen's Caucuses (NASC), working closely with CSF, and with the support of major hunting, angling, recreational shooting and trapping organizations, serves as an unprecedented network of pro-sportsmen elected officials that advance the interests of America's hunters and anglers.
Working with Congress, governors and state legislatures to protect and advance hunting, angling, recreational shooting and trapping.
For more information on the Congressional Sportsmen's Foundation go to SportsmensLink.org or contact Sara Leonard at 202.543.6850 x 11 or email sara@sportsmenslink.org.