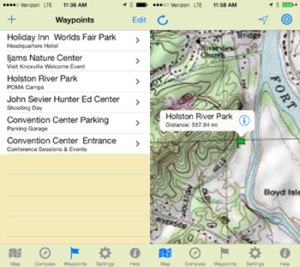 If you have an iPhone or iPad, don't worry about getting lost at this year's POMA Business Conference. Gogal Publishing Company has prepared a special version of its newest iPhone navigation app, GPS Topo USA, which you can download for free before you travel to access turn-by-turn driving directions to all conference destinations.
"We're introducing GPS Topo USA at this year's conference" said Mike Gogal, president, Gogal Publishing Company. "So, we decided to use the app's features to provide a real benefit to POMA members attending the conference." Attendees can request a free download of the app including a custom waypoint file that provides turn-by-turn driving directions to the Headquarters Hotel, Welcome Event, Convention Center, POMA Camps, and Shooting Day.
In addition, Mike will be available throughout the entire conference to answer any questions. He also will demonstrate GPS Topo USA's unique wilderness navigation capabilities with a planned geocaching scavenger hunt at POMA camps. During the camps, members can put the new app to the test by trying out its maps, compass and field navigation functions.
You're invited to stop by to visit Mike at this year's Product Showcase for a complete demonstration of this new navigation app.
To request your GPS Topo USA Promo Code to get your free copy of the app including the waypoints for easy navigation to all conference venues, visit the website link below:
http://gogalpublishing.com/home/POMA/POMA_iOS.html
Michael Gogal
President
Gogal Publishing Company
2017 Blackhorse Drive
Warrington, PA 18976
215.491.4223