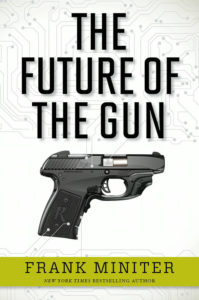 "The Future of the Gun", a new release by Frank Miniter, guides readers through many gun-related topics, including how firearms were involved in America's history, gun education and crime rates, and what role guns may have in shaping the future.
The new 275-page book by Miniter starts out with precise details on how firearms helped form America. The book continues to cover many firearms related topics, including: firearms history in America, military and civilian gun technology, anti-gun groups, how gun education for young people cuts crime, and much more. The book goes on sale this month on Amazon and in stores across America. The Future of the Gun has a MSRP price of $27.99.
In "The Future of the Gun," author Miniter notes: "From the muskets at Lexington and Concord to the semiautomatic rifles and pistols that protect twenty-first-century homes, a gun in the hands of a law abiding citizen is more than a symbol of liberty. It has been a primary tool of American freedom."
Miniter says, "There are two wildly different gun cultures in America—the large freedom-loving, gun-rights culture that upholds the responsible use of guns. And the much smaller but more frightening criminal culture that thrives in spite of, or even because of, government attempts to restrict gun rights. Those two cultures lead to two different futures. The path we take will determine the future of the gun and the future of our freedom. The only way to forge a path to a better future is with the truth—that true story of guns in America is what this book is about." For more details on this book or other books written by Miniter, visit www.frankminiter.com.