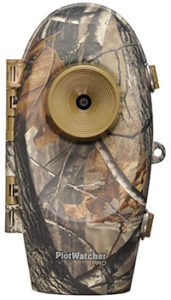 Hunters who have trail cameras set up know the frustration of a cameras batteries running out. Thanks to
Day 6
outdoors, now there's a trail camera with the longest battery life available.
To a hunter who relies on trail cameras before and during hunting season, battery life is critical. Day 6 Outdoors understands this. That's why it created the PlotWatcher Pro time-lapse video camera with the longest battery life available – so you don't miss a second of the action!
The PlotWatcher Pro will last up to four months on one set of eight batteries – that's right, four months. No trail camera even comes close to lasting that long in the field. Put out the PlotWatcher Pro and forget about it for four months. It will do all the scouting for you, and when you retrieve it, you'll have all the information you need to plan your hunt.
Not only does the PlotWatcher Pro have the longest battery life, but it has the capability to snap images every second – also the fastest interval available. It can save up to 1 million images on one set of batteries, and it will save images directly into video format, making it easy for you to review four months' worth of images in a few short minutes. Tru-Video technology, along with GameFinder software with Motion Search, allows you to view the images taken by your PlotWatcher Pro in an HD video format, with the power to fast forward or rewind, and advance to times of movement, letting you get right to all the action.
The PlotWatcher Pro is also easy to setup, both physically in the field, and electronically to suit your needs. It comes with an adjustable strap that can be adjusted to fit around any tree and stay securely through inclement weather and stay put for those four months. Not sure where to set it up? Unlike most trail cameras cameras, the PlotWatcher Pro will pick up movement from any game, whether it's 30 feet away or 330 feet away, so you can rest assured that wherever your PlotWatcher Pro is setup, it will catch movement.
Don't miss out on all the action this fall because your trail camera batteries run out constantly. Install a PlotWatcher Pro on your land and sit back and let it do the scouting for you.