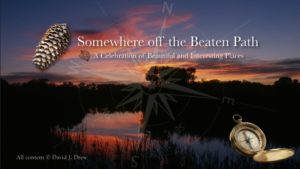 Hello POMA Friends. I have created a YouTube channel called "Somewhere off the Beaten Path" and have the first episode up and ready to view. Episode 1 is The Prairie, and features my photography, videography and writing. Since I work cheap, I'm also the narrator. The Prairie is a labor of love about the landscape of my home. There is a lot of prairie landscape, there is some history and some science as well as shots of bison, elk, and greater prairie chicken. Please watch the video and share it with all your friends and social media networks. Here is the link to the video: https://www.youtube.com/watch?v=dOH7crN1tC0
Since the business model of individual media is a moving target, I've chosen to be a part of Patreon to help fund the production. You can find my Patreon page here, https://www.patreon.com/user?u=2299760
I am already researching future episodes and look forward to hearing from everyone. Please let me know what you think of Episode 1; The Prairie. In Episode 1 I mention that bears, both black bears and grizzlies, were a part of the prairie ecosystem. There is some recent encouraging news that black bears are expanding their range and my again make Kansas their home. We have itinerant bears that come through the state, but wildlife biologists are now saying it is inevitable that bears will live and breed here again within perhaps the next decade.
I continue to update my Fine Art America site and you can view it here; 1-david-drew.pixels.com
Thank you very much for looking.
Best regards,
David Drew