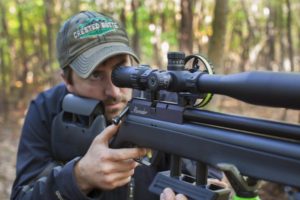 Benjamin Airguns, the premiere line of air rifles from Crosman Corporation, dominated the Hunter Division of the Pyramyd Air Cup field target match, September 10-11 in New Philadelphia, Ohio.
Hunter Division is the most popular field target competition and the 2016 event featured 34 shooters with over 30% choosing the Benjamin Marauder. Crosman Prostaffer Bill Rabbitt of Chester, Ohio defended his 2015 title by winning the Hunter Division with a score of 88 of a possible 100. The top five shooters all shot Marauder rifles and none scored less than a 74 – a full seven shots ahead of the rest of the field.
"Benjamin is regarded as the best performing and best value in hunting airguns and nothing shows off this reputation like the Pyramyd Air Cup event,"€ said Chip Hunnicutt, Marketing Manager for Crosman. €"To have so many competitors using the Marauder and seeing such success is testament to this rifle'€™s capability and regard among serious shooters."€
As remarkable as the Marauder'€™s success in Hunter Division was the show put on by Tom Holland of Maspeth, New York in WFTF Division. This division requires shooters to compete according to world competition standards and features rifles and optics costing several thousand dollars. Holland, shooting a Benjamin Marauder available at Pyramyd Air for just $499.99 went toe-to-toe with members of Team USA and came within just three shots of beating winner Greg Sauve, the 2016 WFTF Veteran World Champion.
Holland and Rabbitt are expected to compete for titles at next month'€™s American Airgun Field Target Association National Championship which also marks the end of the 2016 Crosman National Field Target Series. Over 160 competitors have registered scores in the series. Randy Ebersole of Oregon is leading the Air Rifle competition with 2862 points while shooting a Marauder; Wayne Burns of Oregon leads Air Pistol with 2213 points with his Crosman 1720T; and Ebersole leads the All-Around with 5017 combined rifle and pistol points.
For additional information on the Benjamin Marauder, visit crosman.com or write to Chip Hunnicutt, Marketing Manager, Crosman Corporation, 7629 Routes 5 & 20, Bloomfield, NY 14469, email him at chip@crosman.com, follow him on Twitter (@chiphunnicutt) or call him at (800) 7AIRGUN (724-7486).
For up-to-the-minute news from Crosman Corporation, follow us on Twitter (@crosmancorp).
For over 90 years Crosman has led the world in the design and manufacture of airguns and airgun ammunition, along with airsoft, optics and shooting sports accessories. Headquartered in Bloomfield, N.Y., the company sells its products worldwide under the Crosman®, Benjamin®, CenterPoint®, and Game Face® brands. For more information about any of these brands or products, please contact Crosman Public Relations at (800) 7-AIRGUN or visit crosman.com.