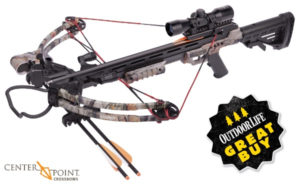 CenterPoint, the optics and archery brand of Crosman Corporation, is proud to to announce the Sniper 370 crossbow has been recognized as Outdoor Life Magazine's "Great Buy" selection in the publication's annual archery review. Revealed in January, the Sniper has impressed industry experts and consumers with its build quality, performance and price point.
"CenterPoint Crossbows represent the very best in value and performance. Every crossbow includes quality optics and accessories to meet the challenges of today's modern archery hunter," says Jennifer Lambert, VP of Marketing. "We thank Outdoor Life for this recognition and welcome everyone to try out the CenterPoint Sniper at their local sporting goods store."
The five-person test team led by Dr. Todd Kuhn looked at fourteen new-for-2016 crossbows, focusing on product specifications, objective measurements like noise and vibration, and subjective assessments like ergonomics and aesthetics. The Sniper was rated as the quietest of the bunch and the overall best value.
"A CNC-machined rail is a big surprise on a crossbow at this price, normally we'd expect an injected-molded plastic unit," wrote Kuhn. "Overall our panel was impressed by how well this bow performed and would recommend it for any hunter on a budget or anyone shopping for their first bow."
For additional information on the award winning Sniper 370 and the full line of crossbows from CenterPoint at centerpointhunting.com or write to Chip Hunnicutt, Marketing Manager, Crosman Corporation, 7629 Routes 5 & 20, Bloomfield, NY 14469, email him at chip@crosman.com, follow him on Twitter (@chiphunnicutt) or call him at (800) 7AIRGUN (724-7486).
For up-to-the-minute news from Crosman Corporation, follow us on Twitter (@crosmancorp).
For over 90 years Crosman has led the world in the design and manufacture of airguns and airgun ammunition, along with airsoft, optics and shooting sports accessories. Headquartered in Bloomfield, N.Y., the company sells its products worldwide under the Crosman®, Benjamin®, CenterPoint®, and Game Face® brands. For more information about any of these brands or products, please contact Crosman Public Relations at (800) 7-AIRGUN or visit crosman.com.