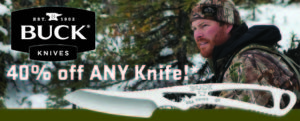 Just in time for the Holidays, Buck Knives has unveiled a new website, and great deals to go along with the introduction. The new site boasts easier navigation, mobile friendly views, and better product information to help simplify your shopping experience. Great knives, great prices, and a great new website.
We are pleased to introduce our new website!




Enjoy 40% off just in time for Christmas!* 
Buckknives.com is brand new!  We've built this new site to include a mobile friendly platform, easier navigation, more relevant product information and simply for you to enjoy a better shopping experience.
Check out the new site and use code BKSITE40 at checkout for 40% off your order!
Order by December 12th to guarantee arrival by Christmas! 
More knives to customize!

 

We've added two more of our famous knives to the Custom Knife Builder!  You can now customize a 112 Ranger and 113 Ranger Skinner, along with the 110 and 500 Series! 

Order by December 1, 2014 for Christmas delivery!

---
110 Folding Hunter Sweepstakes Winners Announced by the End of 2014!



Prizes to be announced:

1. Chevy Silverado 4×4 Truck
2. eXmark Lazer Z  Mower
3. Costa Rica Fishing Trip
4. Hunting Trip in North Idaho
5. Custom PSE Bow
 .

Enter Code BKSITE40 at Checkout for 40% Off!

*40% off special does not apply to items on the Web Specials Page, Eagle Scout Knife or Custom Knife Builder. Offer Expires Dec. 12, 2014. 
Connect with Buck Knives:
www.buckknives.com
pfstore@buckknives.com
Phone:  800-326-2825
660 S. Lochsa St.
Post Falls, ID 83854