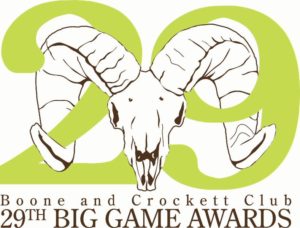 The Boone and Crockett 29th Big Game Awards has scored another great sponsor. The Wild Sheep Foundation will return as a sponsor for the event. The event is set to take place July 14-16, 2016.
The Wild Sheep Foundation (WSF) returns as a one of the sponsors for one of North America's longest-running celebrations of big-game conservation and management, the Boone and Crockett Club 29th Big Game Awards, scheduled for July 14-16, 2016 in Springfield, Mo.
A triennial event, The Boone and Crockett Club 29th Big Game Awards will take place at Bass Pro Shops and the adjacent, new America's Wildlife Museum & Aquarium in Springfield, offering a public exhibition of new World's Records and Top-5 trophies in all categories of native North American big game, plus records-book specimens taken during the past three years by hunters age 16 and under.
"This event is an opportunity for people to see these honored trophies which symbolize America's successful conservation system," said Boone and Crockett Club President Morrie Stevens. "Male specimens that have lived a long life on good habitat to grow large enough to qualify for the book would simply not exist today, or be few and far between if our systems of game and habitat management were not working."
WSF is sponsoring the event's Jack S. Parker's Generation Next Banquet, which honors youths who qualified a trophy in Boone and Crockett records. The youth awards banquet is set for Friday, July 15, 2016.
"We are once again honored to partner with Boone and Crockett and support their legacy of proper game management," said WSF President and CEO Gray N. Thornton. "This is a great opportunity to showcase trophies along with the conservation success of not only wild sheep but all of North America's wildlife."
Stevens added, "By sponsoring our 29th awards, WSF is helping unite the hunting community to celebrate our system of conservation and management, which continues to work well today. Thanks to hunters, big game herds are healthier and world-class trophies are more plentiful now than ever before."
In addition to the trophy exhibition, the event offers registered attendees a chance to enjoy raffles, an auction featuring hunts in top trophy regions across North America, as well as awards banquets and presentations.
In October 2016, the Club will release its newest record book, 29th Big Game Awards. The next edition in the popular and collectible book series will feature over 4,000 new Boone and Crockett-qualifying trophies entered and accepted during the 29th awards period (2013-2015) in 36 different categories of North American big game, from whitetail to walrus.
Boone and Crockett Club began keeping trophy records in 1906 as a way of detailing species once headed for extinction. Today, trophy data reflect population health and habitat quality. Biologists compare and contrast records to improve local management strategies as well as state and federal wildlife polices.
The growing list of sponsors for the Boone and Crockett Club 29th Big Game Awards includes Federal Premium Ammunition.
About the Boone and Crockett Club
Founded by Theodore Roosevelt in 1887, the Boone and Crockett Club promotes guardianship and visionary management of big game and associated wildlife in North America. The Club maintains the highest standards of fair-chase sportsmanship and habitat stewardship. Member accomplishments include enlarging and protecting Yellowstone and establishing Glacier and Denali national parks, founding the U.S. Forest Service, National Park Service and National Wildlife Refuge System, fostering the Pittman-Robertson and Lacey Acts, creating the Federal Duck Stamp program, and developing the cornerstones of modern game laws. The Boone and Crockett Club is headquartered in Missoula, Montana. For details, visit 
www.boone-crockett.org.