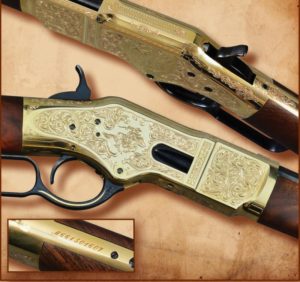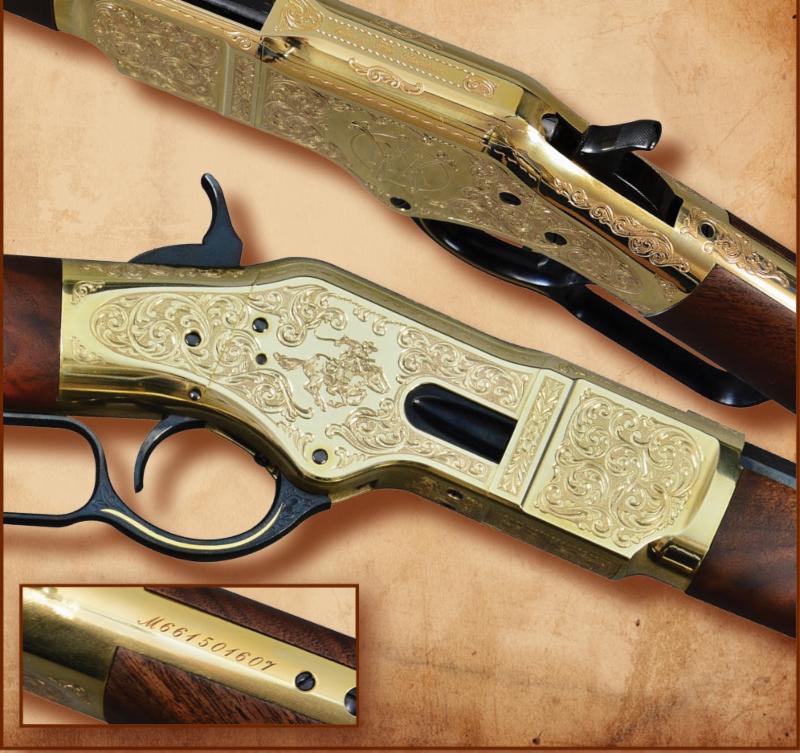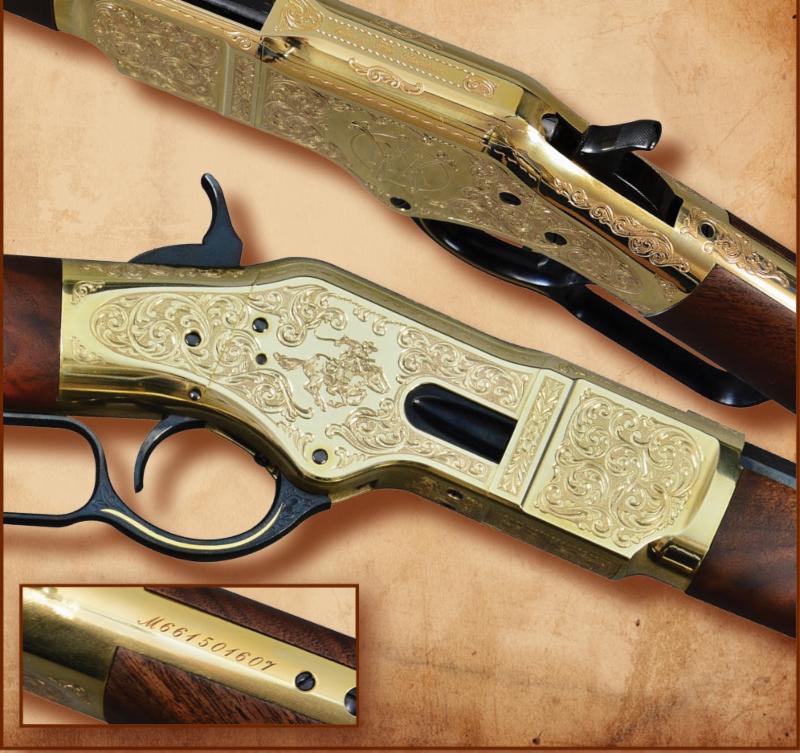 LAS VEGAS – It's the last of 10 pre-production Winchester Model 1866 "Yellow Boy" rifles, which will make it a highly sought after item when it is put up for auction on GunBroker.com during the week of the Shooting, Hunting and Outdoor Trade (SHOT) Show in Las Vegas.
In celebration of its 150th anniversary in 2016, Winchester set aside 10 pre-production rifles, chambered in 44-40, from the "one of Five Hundred" Model 1866 "Yellow Boy" commemorative rifle collection. This unique Model 1866 "1 of 10" will be sold through GunBroker.com to benefit the National Shooting Sports Foundation's Project ChildSafe firearm safety program, through the Project ChildSafe Foundation.
This chance-of-a-lifetime auction will begin January 17, the opening day of SHOT Show, and will conclude on January 30, providing plenty of opportunity for anyone eager to own this stunning rifle.
Ten pre-production rifles were sent to Baron Engraving for custom embellishments and identification and include a box of special commemorative Winchester ammunition and the magnificent Winchester 150th collectible medallion.
This is the last of the pre-production models to receive embellishments by Baron Engraving.
The auction winner will not only have the satisfaction of owning this beautiful rifle, but also will be helping to support the nation's largest firearm safety education effort. NSSF's Project ChildSafe program makes free firearm safety materials, including gun locks, available to any community in the country that requests them through a law enforcement agency. Project ChildSafe's goal is to help reduce firearms accidents, theft and misuse. And it's working. From 2006 to 2015 fatal firearms accidents have declined by nearly 24 percent and now constitute less than 1 percent of all types of fatal accidents.
NSSF's Project ChildSafe program will receive these funds through the Project ChildSafe Foundation, a 501(c)(3) charitable organization.
Go to GunBroker.com to bid and help support providing free firearm safety education materials to communities across the country.
-30-
About Project ChildSafe
NSSF, the trade association of the firearms industry, launched Project ChildSafe in 1999 (prior to 2003 the program was called Project HomeSafe) as a nationwide initiative to promote firearms responsibility and provide safety education to gun owners. Since 1999, the program has provided more than 37 million free firearm safety kits that include a gun lock to gun owners in all 50 states and five U.S. territories. That's in addition to the more than 70 million free locking devices manufacturers have included, and continue to include, with new firearms sold since 1998. Project ChildSafe Foundation is a 501(c)(3) tax-exempt nonprofit charitable organization. All donations to the organization are tax deductible to the extent allowed by law. More information is available at projectchildsafe.org.
---