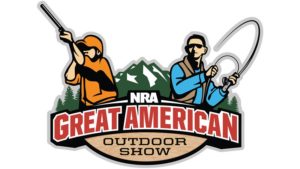 2017 Great American Outdoor Show Media Advisory.
General Information
Largest consumer sports and outdoor show in the world.
650,000 square feet of indoor floor space.
Nearly 200,000 attendees over nine days.
Themed exhibitor halls for Archery, Boats, Fishing, Hunting Outfitters, Outdoor Products, RVs, and the Shooting Sports.
More than 1,100 exhibitors in nine exhibit halls.
More than 475 outfitters in attendance – over 40% of the total exhibitors.
900,000 NRA members live within 300-mile radius of Harrisburg.
Events include the NRA Country Concert, fundraising dinners, speaking events, archery competitions, celebrity appearances, expert seminars and demonstrations, and more.
A more than $80 million economic impact on the surrounding community.
Press Office
The Great American Outdoor Show Press Office is located in room Exhibit B in the Maclay Lobby of the Pennsylvania Farm Show Complex.
Press Credentials
If you would like Press Credentials for the Great American Outdoor Show and have not contacted NRA/are confirmed to be on the media credentials list, email NRAGOMedia@nrahq.org with the following:
Name
Title
News Organization
Phone Number
Email Address
Website
Credentials can be picked up in the press office beginning Feb. 4 during regular show hours.
Interviews
Please email NRAGOMedia@nrahq.org if you would like to schedule an interview with NRA Media Staff before/during/after the Great American Outdoor Show.
Show Hours
February 4, 2017 (Saturday)
9 a.m. – 7 p.m.
February 5, 2017 (Sunday)
10 a.m. – 5 p.m.
February 6 – February 10, 2017 (Mon-Fri)
10 a.m. – 7 p.m.
February 11, 2017 (Saturday)
9 a.m. – 7 p.m.
February 12, 2017 (Sunday)
10 a.m. – 5 p.m.
Ticket Prices
**Tickets are now on sale at www.greatamericanoutdoorshow.org**
Adult: $14.00
Child (6-12): $6.00
Children 5 and under: FREE!
Senior (65 or older): $11.00
2-Day Pass: $24.00
Group ticket: $11.00 (10 or more)
NOTE: Discounted NRA memberships will be available at the show.
Events
Feb. 4: The NRA Foundation Sportsmen's Banquet: Celebrate American values at a family friendly night of fundraising with chances to bid on and win unique firearms, merchandise, and hunts.
Feb. 4-8: DockDogs: The high-flying canine sensation returns to the Large Arena. nyone who thinks their four-legged companion has what it takes to compete in one, two or all three of the DockDog events is eligible to participate! Open to spectators!
Feb. 4-12: 3D Bowhunter Challenge: Showcase your archery skills in a dynamic 30-shot course for chance to win trophies and cash prizes.
Feb. 4-12: Celebrity seminars and demonstrations on hunting, fishing, cooking, and self/home defense, including appearances by Jim Shockey, Alan Probst, Chef Albert Wutsch and many more.
Feb. 4-12: Wall of Guns: Play the odds in The NRA Foundation's popular event and try to win your choice from more than 60 firearms!
Feb. 11: NRA Country Presents Dustin Lynch Granger Smith feat. Earl Dibbles, Jr., and Tara Thompson in the NRA Country Concert at the Large Arena. Doors open at 6:30 p.m.
Mobile App
The official Great American Outdoor Show mobile app is available for Apple iOS and Google Android-powered devices through the iTunes and Google Play stores, respectively.
Sponsors
The 2017 Great American Outdoor Show is presented by MyOutdoorTV.
This year's Associate sponsors are Cabela's and Ram Truck.
The NRA Foundation Banquet is sponsored by Henry Repeating Arms and Century Arms.
Wall of Guns event are sponsored by Henry Repeating Arms, Kel-Tec and Kimber.
The 3D Bowhunter Challenge is presented by Kinsey's Outdoors.
#GAOS2017