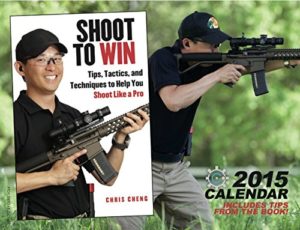 Chris Cheng, History Channel's Top Shot Season 4 Champion and NRA NEWS Commentator, has made a 2015 wall calendar based upon his successful book, "Shoot to Win," available for sale now on Amazon. Just in time for the holidays, the 11″x17″ full-color "Shoot to Win" wall calendar offers tips and tricks on shooting for beginners. Supplies are limited: http://amzn.to/1Bhxv28
To review and buy Cheng's book, visit Amazon at http://amzn.to/1tk7hvm or at http://TopShotChris.com
"Demand for both my book and calendar have been high and I'm enjoying seeing new shooters gravitating to what I'm offering in my "Shoot to Win" book," said Cheng. "We sold out of the first run of my book already – but don't worry, we printed more to make them available just in time for the holidays."
Cheng also has developed shooting tip videos for beginner handgunners via the National Shooting Sports Foundation (NSSF) – available on YouTube (https://www.youtube.com/watch?v=3A15G9J754g&list=PLflj6x1a7no6AhutnXaRCtFOJwuwLn3bD) and on iTunes via the NSSF Shooting Sportscast. NSSF is launching 20+ "Shoot to Win" handgun videos and plans to host a rifle and shotgun series with Cheng in 2015.
About Chris Cheng
Chris Cheng won the title of "Top Shot," a $100,000 cash prize, and a professional marksman contract with the show sponsor, Bass Pro Shops. How did a tech support guy who didn't shoot a lot of guns beat out seventeen other competitors—including seasoned military veterans, law enforcement officers, and pro marksmen—in History Channel's Top Shot Season 4?
Shoot to Win, a book for beginning marksmen, provides world-class instruction on pistol, rifle, and shotgun fundamentals, as well as fun and interesting insights into the Top Shot experience. Shoot to Win sold out of its first run, and is well on its way to becoming the premier, must-have resource for beginning marksmen.
With a foreword written by Top Shot season 3 champion Dustin Ellermann and an afterword written by the original Top Shot champion Iain Harrison, Shoot to Win is sure to please shooters of all stripes, but especially fans of History Channel's program Top Shot.
Learn more about Cheng at http://TopShotChris.com and http://Facebook.com/TopShotChris
********
MEDIA CONTACT: 
Michelle Scheuermann, BulletProof Communications LLC; 651.964.0264; michelle@bulletproofcomm.com