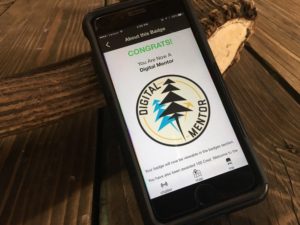 Using the Powderhook app was named as part of the number one thing people can do to ensure the future of hunting in a recent Petersen's Hunting article. The leading hunting magazine listed the top ten things people can do to ensure the future of hunting and gave "Becoming A Mentor" both in person or via the Powderhook app top position.
Downward pressure in hunting participation numbers among Americans over the past 20 years can be explained by major phenomena such as urbanization, cultural changes, lack of access, and more. Many such macro challenges are too big for the individual outdoorsman or woman to tackle. However, the process of becoming a hunter is better understood today than ever before, and national experts espouse the need for a new form of social support network.
Most hunters can track back their social support network to their father or other family member, but for an increasing percent of americans, that traditional support is not there.  Supporting a new person through their path to adopting hunting is exactly what the Powderhook app aims to do. Through the app individuals are able to ask and answer questions, give advice and reassure a newcomer when they are on the right track.
Powderhook Founder, Eric Dinger, said the honor was surprising, yet gratifying recognition. Said Dinger, "Our app has been live for less than two months. We have around 10,000 users thus far. That people understand what we're trying to do at this early phase and recognize the necessity of reaching hunters in new ways is important validation for our work."
Specifically the article calls hunters to sign up to be a Digital Mentor via the Powderhook App, so they can be notified when folks in their area have have questions. Digital Mentoring provides safe place for newcomers to ask questions and get local information that they would have had no way of getting before.
Petersen's Hunting is a highly respected publication belonging to the Outdoor Sportsman Group, a company owned by Kroenke Sports & Entertainment. Petersen's Hunting is a sister company to respected media brands including Wildfowl Magazine, Game & Fish Magazine, Outdoor Channel and Sportsman Channel among dozens of others.
To read the article in its entirety, please visit: http://www.petersenshunting.com/conservation-politics/10-things-you-can-do-to-ensure-the-future-of-hunting/#ixzz4NYUoq2Tn
About Powderhook
Powderhook promises to help people get outdoors more often. The Powderhook app and website are a one-stop place to find local, current information and expertise simply not available anywhere else. Our mission is 'Access for All,' which means we're bringing all the local updates, groups, trips, events, and spots we can into one simple-to-use resource. To get the Powderhook app, visit us at www.powderhook.com.